Our Work
Mark A. Monaco Memorial Scholarship — 2003 Recipients
Collene Merlino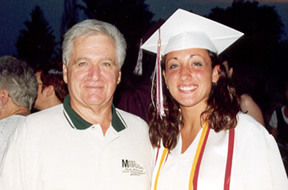 This year's recipient of the Mark Allan Monaco Memorial Scholarship was awarded to Collene Merlino; who graduated with honors, honor Regents. The $500 scholarship was presented at the forty-ninth Annual Commencement of the Maryvale High School at Villa Maria College, Thursday, June 26, 2003. The annual scholarship is presented to a graduate who reflects Mark's characteristics as being outstanding in leadership, character & scholarship and has been accepted at an institution of higher learning.
Accomplishments
Honor Roll, grades 9-12
Scholar Athlete, 9-12
National Honor Society, 11-12
Concert Band, 9-12
Soccer, 9-12
Softball, 9-12
Future Business Leaders of America, 9-12
Yearbook, 10-12
Musicale/Chorale, 10-12
Girls Athletic Association, 11-12
Varsity Club, 11-12
Powder Puff Football, 11-12
Student Faculty Government, 12
Future Business Leaders of America Circus, 9-10
Senior Citizens Christmas Party, 9-11
Panty Drive, 11
Craft Show, 11
Red Cross, 11
Coached youth soccer, 12
Collene was involved in all of these activities while part-time employed, 10-12…amazing!