Our Work
Saint Lawrence University Student Center
"A Beautiful Life"
"A beautiful life that came to an end, he died as he lived, everyone's friend. In our hearts a memory will always be kept, of one we loved and will never forget."
Opening Ceremony Itinerary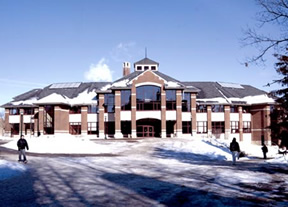 On Saturday, February 21, 2004, St. Lawrence University held their grand opening celebration of the new student center. A contingent of family and friends traveled up to the campus for the weekend to witness the dedication of both the student center and realize the dream of Mark Allan Monaco's Memorial conference room coming to fruition.
Many of the student center donors were asked to speak during the dedication. Included in this group was Mark's father, Allan, who we all affectionately know better as 'TBG' (The Big Guy).
Listening to TBG (representing his wife Joyce as well), speak from the heart about Mark and his memorial conference room, family, friends, SLU, the ATO Fraternity and the student center, in general, was one of the most wonderful yet bittersweet experiences to be had. TBG made it very clear that there is great respect for all of those who have, and continue to support Mark's foundation in so many ways. Special thanks also to those at SLU who were an integral part of this project including: The St. Lawrence University Board of Trustees, Mr. and Mrs. Daniel F. Sullivan, Mr.Peter Beekman, Mr. Tom Pynchon, fellow alumni, ATO Brotherhood (past and present) and Mark's family and friends who made the trip for the grand opening. (To read the complete dedication speech which Al Monaco read that day, please click on the 'Mark Allan Monaco Memorial Room Dedication Speech' page hyperlink above.)
If you or someone you know is ever looking to find someone who has incredible character, sincerity, generosity of spirit and a pure heart - look no further than TBG.
Dedication Speech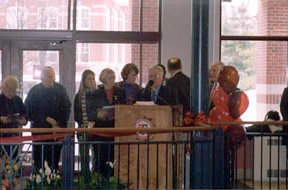 "Mark always had a great vision for the future. If fate had not intervened, we feel he would have contributed to St. Lawrence to help ensure its continued growth. Mark's family and friends have helped to accomplish this for him.

Five years ago, we began our quest to finance a conference room in Mark's name. With our annual golf tournaments and donor contributions, we gather today to celebrate that bittersweet success.

On behalf of the Monaco family, I would like to extend our sincere appreciation for the continued support we have received for this endeavor.

I would like to give special thanks to: St. Lawrence University, President and Mrs. Sullivan, The Board of Trustees, Mr. Peter Beekman, Mr. Tom Pynchon - who has been a great asset to our family, ATO Fraternity Brothers, Fellow Alumni, Mark's family and friends who traveled today to Canton to be with us. Thanks for making this all possible.

February 19th would have been Mark's 30th birthday. I'm sure he would be pleased that we are dedicating this conference room in his memory and keeping his spirit alive at a place he loved."